January 9, 2019

Interesting Read

If anybody has ever been interested in PDC darts in Europe, this is a quick read about it, particularly coming from the author who has never watched it before. Some of our local NDA players have\do play in PDC events. Ask around if you're interested. Guys like Ken McCowan, Ray Carver, Frank Rigacz, Kevin Jinkensen, Mike Maloney have all (I'm pretty sure) played in either PDC events and\or overseas. Sorry if I missed anybody.

Article Credit to: Mark Gallant
Marky's Malarkey: Five Reasons Why The Darts is THE Best Sport to Sweat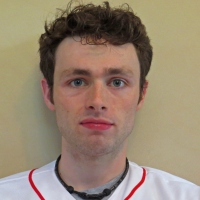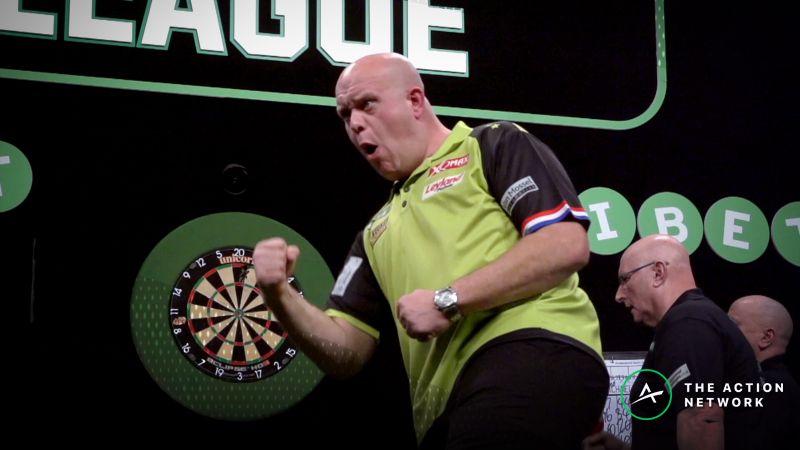 Marky had never watched a darts match in his entire life as of a month ago…now he's watched (and bet on) upwards of 30.
In fact, the entire company was swept up in the 2019 PDC Darts World Championship, which ended on New Year's Day.
Marky lists five reasons why the darts may actually be his favorite sport to bet on now.
For the first quarter century of my life, my Decembers were been spent watching Christmas movies & specials over and over and over again for a month straight. This year was similar, but with an added twist — I watched over 30 matches of the darts, too.
Before the 2019 PDC World Darts Championship, I had watched exactly zero minutes of live darts action.
I didn't really know how the game was played. Didn't know the rules. Didn't know good from bad. Now I'm making measurements in my basement for my future dart board.
When I went in, I didn't know what to expect. Now I know it's a freaking electric factory. Even Bill Simmons knows it, despite being a little later to the party than I was.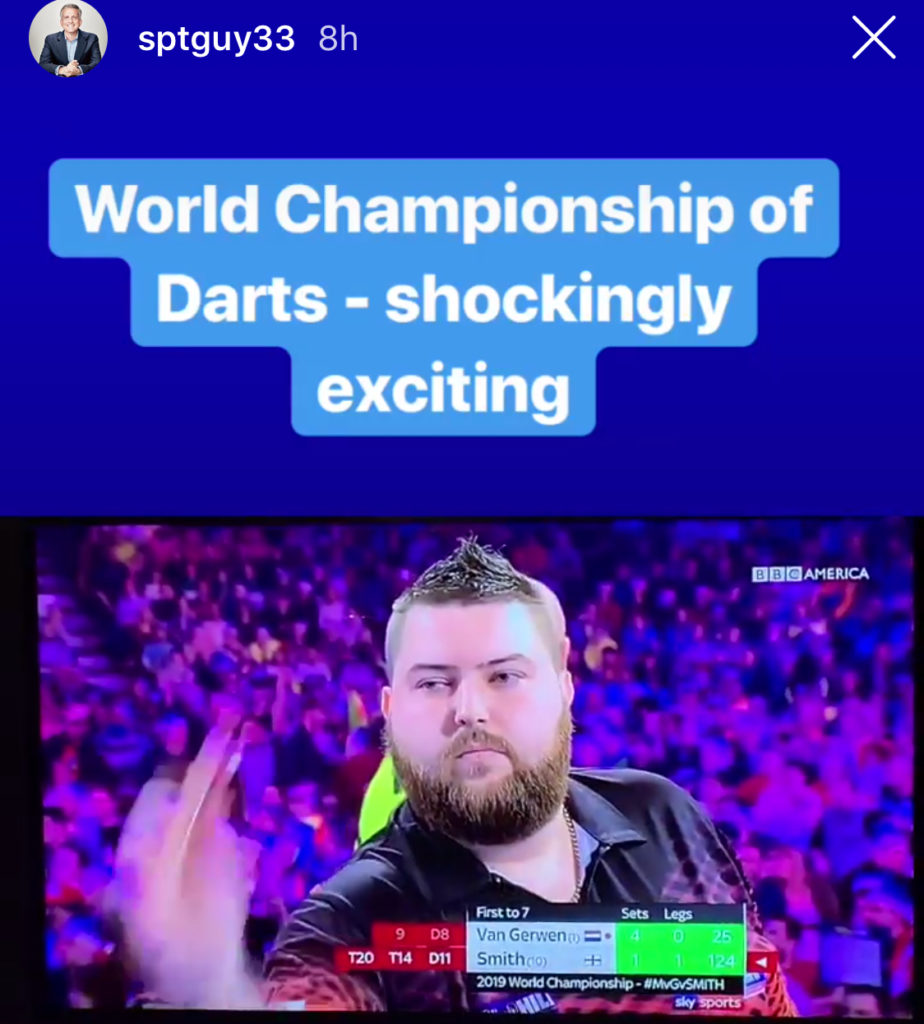 If you don't believe me, that's fine, but here are five reasons why I was hooked like heroin after I watched just one match.
The Pre-Game
Unfortunately, no, I'm not talking about getting a little buzz on before watching these matches. Although the folks across the pond watching the darts in person most definitely did that.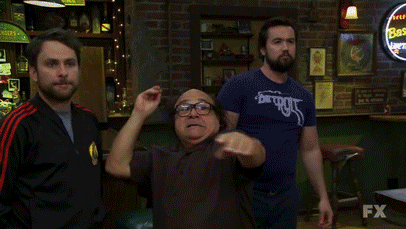 I'm talking about the actual TV coverage before the matches start. They talk about betting! They talk about value! Leboff's article explains the TV coverage in greater detail, which we may get more used to as legalized gambling begins to sweep the nation.
The Fanfare
Every player walks out to their own song. They all have nicknames. The atmosphere is rowdy. You may have seen a bit from that video, but the Ally Pally was insane throughout the entire tournament. I saw people dressed up in full blown Oompa Loompa costumes for crying out loud. It was like if you combined Halloween with a sports game.
Not only that, but the arena is set up like a freaking cafeteria. There's legitimate cafeteria tables lining the floor and many a pitcher o' beer sitting on top of them. These folks were hammered.
The Characters
There was a wide variety of kooky characters that blessed the stage and many of them looked like what you'd expect. Not exactly the most athletic bunch, but captivating nonetheless. The term "pear-shaped" came to mind when seeing most of them.
Some were easy to love. Many easy to hate — especially if you bet against 'em. Here's a few that stuck out in my mind.
Stephen Bunting: We're not worthy, we're not worthy, we're scum, we suck!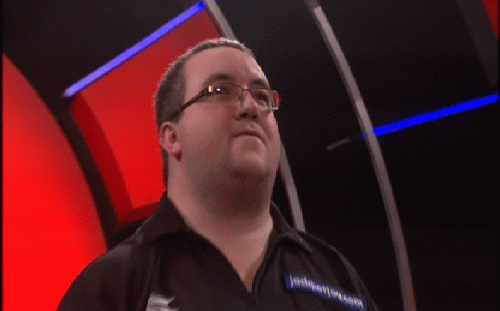 Rapid Ricky Evans: This pissed me off at the time because we were sweating his opponent Rowby-John Rodriguez, but luckily, "Little John" came back for the W.
Gerwyn Price: An actual former rugby player and current heel in the darts word…he was ousted in his first match in what was a big upset.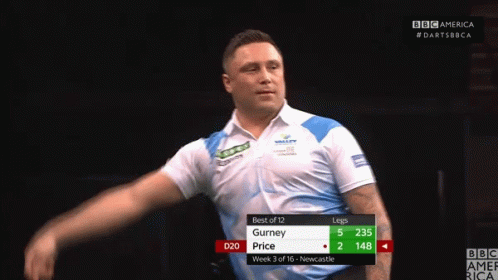 Michael Van Gerwen: MvG – the best in the world. Fiery. Larger than life. The champion has his hardware back in its rightful home.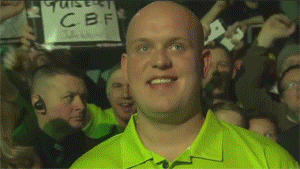 The Format
This tournament took weeks and I'm glad it did because I already miss it. Much like March Madness, the earlier rounds were probably the best. Plenty of players and plenty of action.
Since it took place in the U.K. we also got plenty of morning and afternoon sweats. Two-a-days. The matches are fast paced, too, and only took 30-45 minutes in the first few stages. No down time at all. Action packed.
Waking up at 8 a.m. and immediately watching live sports is something that we generally don't get to experience and it needs to be embraced and cherished any chance we get.
Also, the format of the matches themselves made it easier to follow along with. If you're familiar with tennis, there's a similar game-set-match type of deal.
Also like tennis, you are expected to win when you are "serving" — they don't call it that in darts, but when you throw first.  Breaking or getting broke can cause big swings in the game and big swings in my heart rate.
---
>> Sign up for The Action Network's daily newsletter to get the smartest conversation delivered into your inbox each day.
---
The Check-Outs
If you're new to playing/watching 501, like I was a month ago, you don't know the best part. To win a leg, you need to end on a double, which is the outer ring on the board.
If both players are close to "checking out", in other words getting to zero and winning the leg, it gets as stressful as any other phenomenon in sports. This was especially true in the earlier rounds of the tournament when the players weren't as good.
There's nothing quite like yelling f-bombs three times in five seconds when your player goes 0-for-3 on a double. There's also a euphoric wave of emotions and sheer ecstasy when your guy hits a double — especially if he breaks a leg or set.
Darts isn't an easy sport to follow if you live in the U.S. like myself. Heck, I don't even know when the next big tournament is that I can sweat.
But if you like like to be at the edge of your seat for the entirety of a sporting event…if you like to be entertained…if you like to experience bipolar-esque mood swings, darts is for you.
P.S. – My newfound love of the darts wasn't hurt by the fact that Irish Paul's plays were up over eight units for the tourney
P.P.S. – Irish Paul is Leboff's darts guy. He'd tell Leboff, Leboff would tell the #darts channel in our company Slack